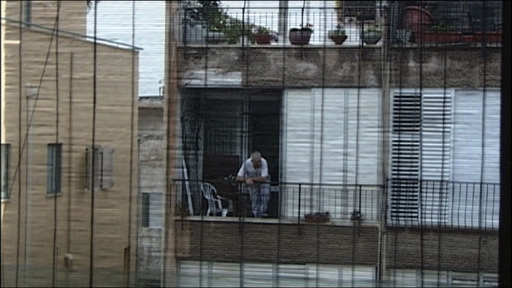 Over there/Là-bas (2006), Chantal Ackerman, 1h18mn
[EN]
This second episode gathers together two documentaries realized one year apart in Israel. Their comparison deals with the different problematics we can find in the category of documentary. Even if the films work with reality as material, and if the objective is not (a fiction), framing and editing choices are made through the subjectivity of the author, and participate in the displacement from "History" to a certain story.
Chantal Ackerman is a Belgian filmmaker coming from a Jewish family who emigrated from Central Europe in the thirties. Her movies, documentaries and fictions deal with (among other things) ordinary life, borders, representation of foreigners, the past and exile. In Over There, a movie realized in 2006 during a journey in Tel-Aviv, Ackerman reveals a kind of "real fiction" which is close and yet open. Her strategy is not to take on questions of Israel, but displace them onto the field of her own relationship to this country, to her representation as a person from the diaspora who goes over there. Through this perspective is the discovery of a certain heroism through scenes of everyday life in a conflict zone.
The author and the movie camera observe from the interior of a furnished apartment and through window's blinds, without tackling what happens outside. The presence and the voice of the author in this same space and time is narrated on the soundtrack in the style of a diary. To the long discourses and fast images which are so often presented, Chantal Ackerman takes the opposite position of a surveillance camera, that manages a vigil of the city, of the everyday life activity of her momentary neighbors. The only shots that she will realize outside this intimate space, will be those of a woman at the seaside, turning to another over there, to an elsewhere.
To the immobility and the exile's image unveiled in the Chantal Ackerman's movie, answers the mobility, the engagement and the preconception of Avenge But One Of My Two Eyes, by Avi Mograbi, realized in 2005.
Avenge But One Of My Two Eyes/Pour un seul de mes deux yeux (2005), Avi Mograbi, 1h40mn
Avi Mograbi is an Israeli filmmaker who doesn't hesitate to practice self-criticism inside his documentaries. In his movies, Mograbi deals with the history of a country in conflicts. His country, Israel, is at the same time in its actuality but also in regards of its myths. Mograbi is animated by engagement where the movie camera is a weapon against military violence. In the style of a reporter on a mission, he is at the same time in front of and behind the movie camera. He puts internal, external, symbolic, mental but also stylistic borders to a severe test. Avenge But One Of My Two Eyes is a documentary composed by three separate space and times which cross and dialog together. The first one wonders about founding myth's role (Massada's and Samson's biblical stories, from the Old Testament) in the Jewish identity and their instrumentalization by the State. The second one dwells on discernible frictions and tensions around checkpoints, kept under the control of the Israeli army, which separate both peoples and which, quite often, become a place for arbitrary persecutions against Palestinians. Finally, the last one is composed by a fixed shot on Avi Mograbi, a television behind him (the history walking), online with a Palestinian friend from across the border in Gaza. They share their respective distress.
These two movies, in spite of their stylistic disparities, bring about a similar shift between documentary and cinema / fiction. In terms of their work, these two movies were also for Chantal Ackerman and Avi Mograbi a kind of atypical step. For each of them, these movies are result of a will to work without a safety net, without script previously written, from a collection of shots and images, starting from the material and not from the content in order to avoid the temptation to manipulate images on one side, and on the other side, to limit the propensity to throw in too much subjectivity. They mix together History and their own stories for a His-story and participate by this way to the dis-location of borders between reality and fiction, sensing a kind of real schizophrenia from which to suggest the emergence of a new state.
[FR]
Ce second épisode réunit deux documentaires réalisés à un an d'intervalle en Israël. Leur confrontation met en lumière les différentes problématiques que l'on peut retrouver dans le genre documentaire. Si le matériau même est prélevé dans la réalité, son objet n'est pas la construction d'une narration ; les choix de cadrage et de montage opérés par la subjectivité de son auteur et l'Histoire qu'il tente d'approcher reste une certaine histoire.
Chantal Ackerman est une réalisatrice belge issue d'une famille de juifs émigrés d'Europe centrale dans les années 30. Ses films, documentaires et fictions, traitent entre autres de la vie ordinaire, des frontières et des figures de l'étranger, du passé et de l'exil. Pour Là-bas, un film réalisé en 2006 durant un séjour à Tel-Aviv, Chantal Ackerman nous livre une sorte de "fiction réelle", à la fois close et ouverte. Elle déplace la question d'Israël dans le champ de son propre rapport à ce pays, à sa représentation en tant que membre de la diaspora. Comment rendre compte d'une certaine forme d'héroïsme à vivre au quotidien dans une zone de conflit.
Ici, l'auteur et la caméra observent, sans confrontation, ce qui se passe à l'extérieur, depuis l'intérieur d'un appartement meublé et à travers les stores d'une fenêtre, tandis que la présence et la parole de son auteur, dans ce même espace-temps, viennent s'inscrire sur la bande-son, à la manière d'un journal intime. Aux longs discours et aux images rapides qui nous sont trop souvent donnés à voir, Chantal Ackerman prend le parti inverse. Telle une caméra de surveillance, Chantal Ackerman observe une veille de la cité, de l'activité quotidienne des voisins du moment. Les seuls plans qu'elle réalisera à l'extérieur de cet espace intime seront celui d'une femme, de dos, au bord de la mer, tournée vers un autre là-bas, vers un ailleurs.
A l'immobilité et à l'image de l'exil dévoilés dans le film de Chantal Ackerman, répond la mobilité, l'engagement et le parti-pris de Pour un seul de mes deux yeux, d'Avi Mograbi, réalisé en 2005.
Avi Mograbiest un cinéaste israélien, qui n'hésite pas à pratiquer l'autocritique au sein de ses documentaires. Dans ses films, Avi Mograbi traite de l'histoire d'un pays en conflit, son pays, Israël, à la fois dans son actualité mais également en regard des ses mythes. Avi Mograbi est animé d'un engagement, la caméra est une arme qu'il oppose à la violence militaire. A la manière du reporter en mission, il se place à la fois devant et derrière la caméra. Il met les frontières intérieures, extérieures, symboliques, mentales mais aussi stylistiques à l'épreuve.
Pour un seul de mes deux yeux est un documentaire composé de trois espaces-temps distincts qui se croisent et dialoguent. Le premier interroge le rôle des mythes fondateurs (récits bibliques de Massada et de Samson, issus de l'ancien testament) dans l'identité juive et leur instrumentalisation par l'appareil étatique. Le second s'attarde sur les frictions et les tensions décelables aux checkpoints, tenus par les militaires israëliens, qui séparent les deux peuples et qui bien souvent deviennent le lieu de persécutions arbitraires à l'encontre des palestiniens. Enfin, le dernier est composé d'un plan fixe sur Avi Mograbi, une télévision en arrière plan (l'histoire en marche), en ligne avec un ami palestinien de la bande de Gaza. Ils échangent sur leur désarroi respectif.
Ces deux films, malgré leurs disparités stylistiques opèrent un même glissement entre documentaire et cinéma. Leurs auteurs respectifs se sont détournés de leurs habitudes cinématographiques pour satisfaire une volonté de travailler sans filet, sans script préalablement écrit, à partir d'une collecte de plans et d'images, pour partir de la matière et non pas d'un contenu à véhiculer afin de se dégager d'une part de la tentation de manipuler les images et d'autre part, limiter la propension à projeter toute subjectivité. Ils entremêlent l'Histoire et leur histoire pour une His-story, et participent à la dis-location des frontières entre réalité et fiction vers l'émergence d'un nouvel état, la perception d'une certaine schizophrénie du réel.