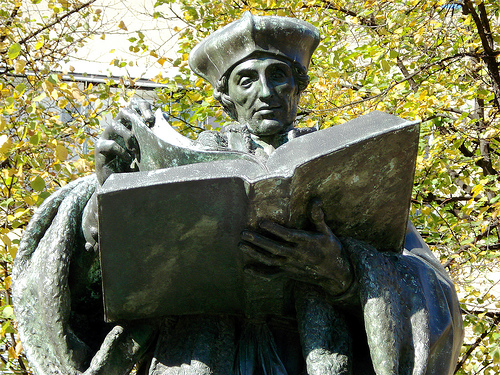 Bronze statue of Erasmus in Rotterdam, Hendrick de Keyser (1622). Picture by Hector Zenil.
Back from Rotterdam, where Elodie Dufour and I attended the "Rotterdam Dialogues" on "the curators". We both had the occasion to meet up with a former "Erasmus" comrade of mine at the University of Vienna, Martin Boeckhout, who wouldn't come to the Witte de With but was up for discussing about it.
Marlène Perronet
According to me, the decision to deal only with dialogs was an adapted form, even if these were closed-ended questions, such as "What are the responsibilities of a curator?", "Does the exhibition have a future?" or "Can we juxtapose academic and intuitive thinking in the practice of curating?" were a bit tarte-à-la-crème. The only speech made as a real lecture was the very first one by Irit Rogoff, giving the definitions so to say.
Elodie Dufour
I was really interested by Irit Rogoff's lecture on the "implicated" notion. This was on finding a new terminology to redefine 'curatorial' in regards of 'Curating'. She introduced the three days "Rotterdam Dialogues" and it was a representative gesture from the point she raises. The curatorial defined as "an event of knowledge" describes a new curatorial position, including the notion of the "performative audience".
I really like this idea that the audience, as she said, "produces meaning through relations with one to another". Also, she introduced the notion of shift from the "analytical" to the "performative" function, defined as a generative movement.
Martin Boeckhout
What I find interesting about this is a parallel concern in the field of science. One of the "accepted view" (if I may call it that) of how science relates to the world is by assuming that good science gains its support from society precisely by keeping a certain (intellectual) distance from it – and that the results of scientific activity will only be taken up by non-scientists in a more or less finished form. Of course, historically speaking such a model is at least only part of the story of science; but more interestingly in this context is that the general tendency in theorizing about the relations between science and society is to also invent models which "implicate" the outside world in which science is "entangled" into research processes (Bruno Latour is one of the names associated with such a position). Making the (previously passively conceptualized) "end users" an active part of the research processes also requires a theoretical and practical consideration of a number of different things: the circumstances under which such "implications" could be successful, the subsequent roles these "newly implicated" actors may have, as well as the changes this may bring to the actual processes, settings and outcomes of research. One could say that this is what Science and Technology Studies (STS), the field I'm working in, is all about – and I suppose there might be parallels to be drawn with curating.
MP
The field though doesn't seek for a definition, although it tends to professionalize and specialize in the same while. Ute Meta Bauer drew a parallel between the new curatorial training programs and art-schools, analyzing the fact that neither artists nor curators were (anymore) educated as art historians and that in these recent curatorial schools, which consist mainly of postgraduate programs, one was trained on making exhibitions, here and now, much more than reflecting on what one was doing. It was mostly a question of adapting and reacting to the issues to come or more, like Irit Rogoff said for the "implicated" ones, being "generative", not "reactive".
Hey, we have to go, let's discuss about it later…