Mapping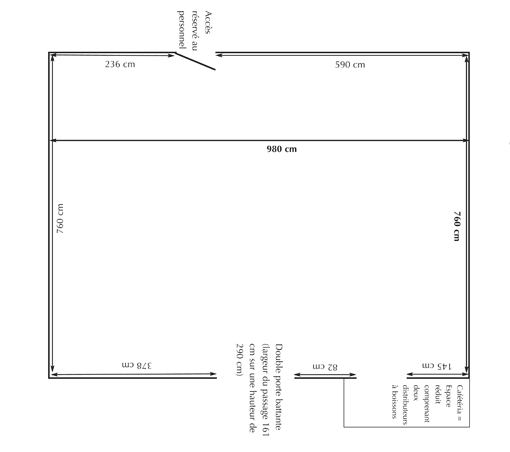 The floor plan of Le Salon Rouge - Diane Pigeau
This episode about Mapping took place by way of three correspondences from the world: France, Korea and Armenia. The "mapping" brings together materials and positions which have been developed for the final project, and places them with the relation of references and quotes as well as by the attitude being linked from different parts.
The episode is accompanied with the plan-documentation of Le Salon Rouge at Le Magasin – Centre National d'Art Contemporain de Grenoble where the first departure of the project will take place. The plan is a visualization of the map-territory on the project level that will be drawn in by the final project of the participants of the Session 18.
Episode 08 was moderated by Marianna Hovhannisyan and Yun In Kim.
Marianna Hovhannisyan
This group discussion is devoted to mapping i.e. to analyze, investigate and see the formation inside our project. "Mapping" by itself refers to multi-layers, explanations and positions, and this applies in our case and discussions. It is experimented with physically as mapping to situate ourselves geographically, and conceptually in regards to specific constructed or projected territories and zones, and in the exhibition space for the realization, in considering how the works we have and materials can appear in the exhibition place mapped to each other. So from our new separated situation, I think it will be a good beginning to listen to the position established by each of us through the notion of "mapping" and if from that we will be able to manage to arrive to enter within the planned exhibition.
Diane Pigeau
I just would like to begin with an anecdote as the distance makes appear a kind of sentimentality and nostalgia. Marianna, when you describe the mapping, it reminds me of the time before your arrival, how we jumped on Google Earth in order to try to figure out where exactly Armenia is situated. And how I suppose you did the same in order to precisely see in which part of France was Grenoble. And what interested us mainly on the question of mapping out Armenia was how maps can be connected and collect various datas, from physical to virtual, in order to produce a representation understandable even without sharing the same language.
Marlene Perronet
In order to be clear, I guess we should first define "Mapping" and "Visualization":
"Visualization" is, just following Wikipedia, "any technique for creating images, diagrams, or animations to communicate a message" while a "Map" is "a visual representation of an area - a symbolic depiction highlighting relationships between elements of that space such as objects, regions, and themes". (please, there are plenty of examples on our Delicious such as The Best Tools For Visualization.
MH
But if we refer to us, what is the mapping inside the project? You bring the notion of visualization, cartography, and this refers to representation. I think taking into consideration the last discussions we have had around how to make the general concept and going back to the history of the Session and coming to now, what we have in sense of material, can we say in some way we are trying to draw the map of our common shared properties? And if so in terms of which relations?
ED
You mean can we make visible the mapping, from the situation we are in, no? Inside of the conceptual frame going to the realization part? I would like to consider in which sense we could figure out the group, now separated, in a common mapping? How could it be a dialog and what could it add comparing to the fact that you are from outside to inside of the group. Can the connections between the six of us become a model?
Tolga Taluy
For me, talking about mapping is exactly as you were talking about books, paintings, etc. It is a medium which is used in a particular purpose within the context of contemporary art.
MP
You think mapping is a medium?
TT
The specificity of cartography is the traditional accuracy of representation. If we take the mapping in the specific context of art, it has certainly a history at least from Mark Lombardi to Bureau d'études. For me the question would be - if you were to use a mapping - what would be the reason and especially, what would be the content?
MP
The OVERVIEW!
ED
And overlaps
DP
And to precisely question their traditional "accuracy".
TT
If you would like to show the overview or the overlaps, do you think these could be
the contents? What would they be precisely? On the other hand, if you start questioning the accuracy of mapping, then you start to question the form itself. I wonder if that is our current purpose.
DP
Yes exactly before to use a medium, you need to define all its properties implying its limits and sometimes contradictions or beliefs.
Yun In Kim
I'd like to talk about two opinions of mapping, one is in our group, and other in general as I always think about the concept of mapping in the field of contemporary art. Mapping for our group acts on networking devices to make links between individual interests and group materials. In this case, the mapping is a methodology and the map consists of frameworks as the visualization of our thinking, I'd like to called 'meta-map'. I don't have a material or a technical device to describe this 'meta-map', but I think that it will be an alternative way to drawing the plan of exhibition space or making the blog map. And if we will make a publication, I'd like to insert the "atlas" of session 18. Second opinion, I'm always thinking about that web-based art project necessarily causes mapping because Internet is a new widespread territory, therefore all of web-based activity including artistic or curatorial practice needs to make a map to explore within it. We are, in this sense, an expeditionary force on the web as a new territory so mapping for exhibition, perhaps, is the inevitable consequence in the field of exhibition making.
MH
So what is the point as I understood you want to make an "atlas" of session 18 how you think in which way?
YIK
To make the "atlas" of session 18, I'd like to use the materials or the contents from inside of our group working, for example our blog is the most important source.
DP
In regards of the second opinion of Yun In I just would like to send you back the project called Voyage en URL. I have written few weeks ago about Collectif 1.0.3 where they precisely try to figure this kind of exploration inside the WWW by the collection of historic visits and how to utilize them in the form of a screensaver. I used it in reference to the image of both the "Flâneur" of Walter Benjamin and the Derive of Guy Debord. But you know that all by heart.
YIK
Yes, I agree with you I really like the concept of Collectif 1.0.3 so if we need to bring some materials from an external project.
MP
If "mapping" is a medium, if it has variant forms and contents, I guess our purpose is at first to consider in what ways this as a "medium" is interesting, what range of applications are we interested in? We should not have to seek those contents.
MH
But coming to this I would like to say that mapping is not only a medium. It represents very physical determinations for me, and so this is also a very physical character, which is then also one mediated by different mediums, situations and contents. I agree on Diane's question that you draw the territory and Elodie's that for mapping the connection is important. For example Tolga if you transfer what you said about mapping on our group and project what are the precise points?
TT
OK - maybe we should replace "medium" by "tool". What I am trying to say is that as everything else, it needs a reason to be used, in regards of the contents it implies. I guess we have all agreed on the importance of mappings. My point is more about the content they would invoke in our situation - this is tightly linked with the content.
ED
Couldn't it start from each of our personal angles connected to a global form, defined as our personal position with the others? You, Yun In, what could it be for you?
YIK
At first time when we discussed about our position, I decided to take a part of mediator to public, but I'm not sure that is still available now, because of my absence, but I think about other possibilities. If we need to make a publication. I think that is an alternative way of mediation, and I can contribute to a publication as guide or as map.
MH
I think that point is clear for me and it is funny that everyone of us now is asking about the content. No one has an answer for now but maybe we can start to go by examples what we have. Yes, one of them is the Internet space which appears in everyone's proposal, as artistic position and method as Collectif 1.0.3, in Elodie's case it was experimentation with two fields, in mine it was to model, and Tolga had a geographical focus and considering what are the influences and Marlene was putting the narrative part and now she seems to transfer it to real space in display, I am giving just starting points.
MP
You got it Marianna - even if in my case I prefer the notion of visualization. Concerning the display space, I aim to work on these connections - not between our selves - but between our research, which is maybe the same. First, because of the frustration you can't be back here to present your work, which is itself an abîme of those networks and speeches with the interviews. Then, because this blog, these GDs… the architecture of our statements became my main point of interest. Now, about this notion of "mapping" knowledge, from physical cartography to networks, I just was wondering if a parallel could be drawn to History; the utopian idea we can represent this, and especially with the possibilities of the tool, having first an overview and being able to zoom inside to its detail.
DP
Ok if I look back on our posts and not only on the ideas we have for the exhibition (as this is not definitive yet) mapping - for example in my case - appears right on the beginning of my topic around Border Devices, because of their common, usual link to geographical representation and the notion of space. Then I made a movement to look on history as a reaction. And I asked myself about the legitimacy of the information transmitted by History, finally returning with this same question to geographical representations through mapping. Are maps objective and true, are they only dealing with information, what kind of design and language do they use? And how this tool is mainly used to link movement and distance in any field.
ED
I would try to question my position regarding overlaps or connections. Because I feel as a psychologist, but not really, and as a student in curatorial practice, but not really, and working in l'Ecole, but not really, and sometimes I ask myself how can the connections or juxtapositions be visible to outside, and does it have sense to make it visible and why? Mapping can be a tool in this case, using 1.0.3 would be one way to figure it out…
MH
Coming to your question I think that "not really" was the basis of experiment in each initiative and even art works we were working with. I think we have to focus on it as the content in order to understand the why and for what.
ED
But it is not more a movement than a transition moment?
DP
But how to map a space which is "not really" existing? How does a map define zones with limits and interplay inside, where we still have the possibility to choose to be lost? Another anecdote for the pleasure! With GPS now you enter your point of departure and then your point of arrival and the machine defines by satellite the easiest and common and safe to join your goal, and even when you chose to not use the main road it's always bringing you back on it. A map that now interferes with your individual path.
MH
We always come to the place even we do not use and choose, even more then before, and today I think we can finish. We did not make any big step forward but at least we can manage to meet all together. I think it is nice to finish and start with anecdote - let's go to work.