Transformation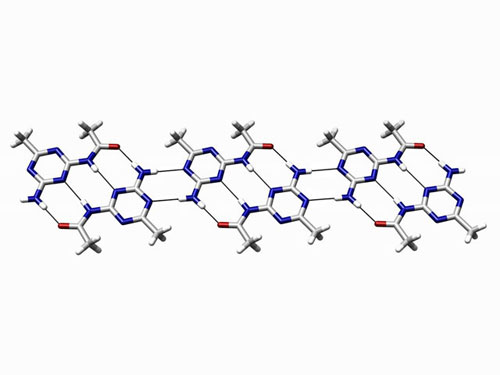 Hydrogen-bonded molecular self-assembly - Wikimedia Commons
Mar 09 – 14 2009

This is the group dialog belonging to Season 18. Each week we are discussing a specific topic regarding the evolution of our collective project. The focus on dialog reflects a meeting point for the different voices in our group. This Episode 06, entitled "Transformation" serves to mark off the passage between the closing of one phase and opening of the next in the Session 18 collective project. In the next phase, the group dialog will be set into a new relation with the dynamic of the group work, in order to focus and develop project realizations, which are themselves based on the research materials and experiments within the blog. Therefore, in this discussion situated on the line, the moderator's perspective is set to the upcoming situation, while trying to understand the impact and resonance regarding the group development during this past six-weeks.
Episode 06 was moderated by Marianna Hovhannisyan.
Marianna Hovhannisyan
OK let's start. In this group discussion I would like to focus on the planned new formation of the group work in the next phase. Coming to a realization point how to deal with our material, we have realized that the system we built, based on the individual researches in relation with the group discussions, was mostly a process to understand and clarify each one's capacity, skills, working methodology, and development of a curatorial project. We have chosen two main lines which provide a platform and focus in order to have a basic skeleton outline, and can deliver a relation with the other's space, role and part. This sounds for me like a small society, a main body that operates with other functional parts. My position is to promote this system, that's why I would like to hear each of you about it, what is your reaction and how do you see this structure important in the curatorial work.
Marlene Perronet
For me what will be very important in this new deal is precisely our group meetings. As we noticed in the past, we would always orientate our meetings in defining some tasks for the next days, scheduling this and that, but never really meet up in order to make either some feedback on what we had done, or to speak about our contents and share them. This issue was once told by Tolga. The blog was obviously the place for that but no one really used it the same way. Maybe, it would be nice for a start to fix this, and meet up (by any means since Marianna and Yun-In might fly away from us) in order to say "well, I am now at this point, there. What do you think, here are my issues, etc."
Tolga Taluy
The current situation can be qualified as a shift to a new phase of realization, mainly by reducing the content we already provided to something more articulated in order to make a better sense at the end. This shift also belongs to the group, because we've noticed some things work well and some others don't work so well, and we have to find a better way of working in order to get the realization done in time.
Yun In Kim
Yes, I think "realization work" which can be another season of our group work is very important for building up our curatorial practice. I'm really interested in this second part of our group work and I think about reflecting my role in this case. As I already mentioned, I'm interested in the "display" part as an issue between art and space. It means that I think I can contribute to or take a part in the space composition between real and virtual. Personally, I'm going to try to new subject of my work, it will be sometimes related with our group work but many times I will work outside of group. And it will be a bit more complicated than research works because of the problem about schedule, but I'll try to move with this step towards a new perception.
Elodie Dufour
As you said, the structure is built with a main body in a central position, connected with different functional parts, which can be compared to a society. I like this analogy as it can be a living system, with different voices and regulation led by the need to end up with a common realization. In my opinion, we need from this position, to define rules and even a kind of collective pact. This could be as a common "contract" to involve everyone's responsibilities to the others. I don't mean something formal, but you know in a society, there is a constitution which can be considered as the role and responsibility that you agree to accept and to follow.
YIK
I really agree with that we have to re-define our rule of collective works, and it can be new version of our group dialog I mean after group.
Diane Pigeau
Maybe more than a model of society, we can also compare it to the building of a cosmology articulated around satellites and constellations, which imply more the notion of flows, movement, displacement, but keeping a logic, a methodology for the balance of our system. The model of society seems a little bit rigid, static.
MH
I will try to take some options which you have mentioned in your answers, like Marlene was mentioning that it is important to meet up for the feedback, Tolga notices that something works while others do not and so one should realize it, and Yun In is for the process itself, Elodie speaks for the collective commitment and Diane is keeping focused on the group as a question of movements, displacements, and dynamic. For me what is important is that we will try to understand what we consider as the most crucial points in the curatorial work. I would like us to remove ourselves from the many background issues of the L'Ecole as a framework, in terms of all that we have experienced, in order to see our work in another situation. I want us to remain focused on realizing the educational aspect, as the input of this situation.
DP
From an educational point of view on curatorial practice and regarding experimentation, we learnt that through methodology and content's questions, there is constant back-and-forth as a dialog. How finally we can't separate neither the location, nor the interactions in play within a structure, the time allotted and contents. And the pertinence of the realization has to be to figure out these interactions through also the multiplicity and diversity of persons involved.
ED
I agree with you that the dialog between questions and experimentation is a big part of a curatorial training.
DP
And how each choice takes finally more importance than we could maybe imagine at the beginning, as this experience of the blog which took more and more place and even also influences our relations through a new form of language, as exchange between us, both virtual and real. The blog offers another, or an other place for the question of the voice, the question of the rhythm.
ED
And to play with these movements, and the in-between time, which to me is very structuring and stimulating!
DP
But also destabilizing.
MH
The leveling question concerns the involvement I guess. Everyone of us who was involved in any project can say that it always exists but here what is crucial is that we put it on the stage of awareness.
ED
The shape of the group is always in movement to me. Sometimes it helps to identify yourself but somehow, the shape is not stable enough to be able to project your ideas inside of it.
TT
For me, what I've learned from this experience is how important the influence of the context can be … The shape of the group is in direct relation to the situation in which we currently find ourselves: in a transition. It seems like Marianna and Yun In are in a perpetual transition, the l'Ecole du Magasin is in a structural transition and even most of the educational structures are in a programmatic transition in regards of the European Union's directives. The interesting part for a curatorial project is to take something from this material and make a proposition, not as a simple action/reaction, but an argumented/articulated one, with different point of views.
ED
I am really happy to hear you in this position Tolga, when we discussed about it before you didn't seem to feel how large the consequences of the context inside of a group can be! And how we can be sometimes a mirror or reflection of the context, which can be a very interesting situation, I agree. Even if of course each of us can have a very different way of reaction in this situation.
YIK
I agree the point of new kinds of perception of curatorial practice.
MP
The context, the "intertexte"…
TT
Of course - but not falling into illustration is a delicate matter.
ED
And I am really glad to see that the project is progressing with the current geo-political situation. To be aware and take part as an "active" observer is very important to me inside of a curatorial project.
YIK
I think it is very important to watch other peoples' works with positive point of view, and sometime we need to make a link each other and exchange advice with each other. I think that will be, may be, the way of education by ourselves. It means that each one can be interaction of others.
DP
Finally it also relates to the macro and micro, how we looked very far to us in order to return to our situation but with new light on it.
ED
To react is not so much my position. But feeling implicated and responsible of something can be a goal. To make something visible to outside and put a focus on it is a big responsibility to me, in the case of web-therapy topic for example.
MH
The question is changing the focus, which is what actually happens by choosing the main two lines and it can directly relate to the context to the group situation and every question which was not visible enough but from another section, and we were so inside and now it seems for me we are taking position very objective and see our work from outside, and trying to realize the reality that these people have this capacity and can make this proposition, and how it is possible through it construct the group.
TT
For me, the only responsibility we have is to realize a collective curatorial project at the end of May.
YIK
I actually don't know how to make realization through our group, but now we just try to act on new projects which we talked during this week, even though it needs to be refined. I recall the first time when we discussed about our blog, season 18, at that time we didn't know how to consider this blog but now we have a lot of ideas and we can see diverse ranges of the subject, so I believe it is a positive perspective onto our future project.
TT
Just to reframe maybe a little bit, I would like to add the decision we took is to refine and reduce the collective project by considering the material produced during the first phase in order to see more concretely where we can head to and what we can do in the space/time opportunities we have.
What I think is really important in the field of artistic and cultural propositions is the idea of a certain "essence". You have to reduce/refine the overall ideas so it becomes more and more accurate, exactly as the focus of a camera: once you have the right image, you can start to work with it, build something from it, take on positions, etc.
MH
I totally agree it is the main method to work in the curatorial work
DP
But here the important fact also was the fragmented issues and how we built a narration from them from both our individual and collective perceptions of the events. How to be always connected and also independent were and are still important issues between us, in regards of the contents, locations and information.
TT
Sure, this essence has to come from somewhere - it is not spontaneously synthesized.
ED
We all know it!
MP
One group refines several propositions to one interesting project. On the blog, there is a section for research and one for the participants.
ED
A proposition can be the only possibility to appear as a person inside of a group project, no?
MH
So let's continue to work and finish the conversation.
MP
Ahaha, good ending!
MH
Because it is difficult experiment which happened with us these past days and I hope the six-headed beast will not come.