Correspondences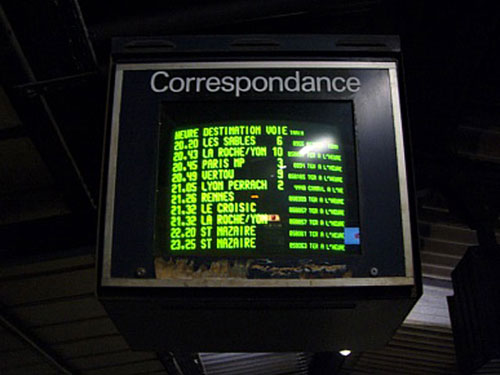 Correspondance - Yun In Kim
Mar 02 - 07 2009
This is the group dialog belonging to Season 18. Each week we are discussing a specific topic regarding the evolution of our collective project. The focus on dialog reflects a meeting point for the different voices in our group.
Yun In Kim
This week, six of us have three study trips to other cities. Although we are going be to separated during one week, we have the same aim which is attend symposia related to our research and practice. We attend these symposia in our position as participant of Session 18. I would like to say that is "different, different but same" which describes the idea for group dialog 05 entitled "Correspondences".
In relation to this concept of correspondence, I suggested using email and Twitter to communicate with each other, as Twitter is a real-time short messaging service that works over multiple networks and devices, and suitable for us because of the geographical differences. I asked everyone to discuss the symposium with two conditions: why you decided go to there and what you expect for the symposium or if after the symposium, what you got from the experience. I asked to send messages to next correspondences on Twitter. Starting point was on Tuesday the 3rd and the final messages were Thursday the 5th, although as the Rotterdam trip goes on till Saturday the 7th, they will continue to correspond. And I asked to include date, weather and photos of the venue because of the different geographical situations. I'd like to present the messages as our group dialog 05 from three different cities.
Tolga Taluy (from Grenoble)
My part for the group discussion starts now. Concerning yesterday, unfortunately I couldn't go to Geneva because of health problems. Instead, I've watched two very interesting documentaries. The first one is titled: Simon de Pury commissaire priseur - http://tinyurl.com/bgtedf, it was a documentary about Simon de Pury, an ex-Sotheby's auctioneer who founded his own auction house named Phillips, de Pury & Company. You can watch the documentary online by clicking the link I've sent previously. The second one is called: La cave aux tresors - http://tinyurl.com/ct5ttq, it was a documentary about the "basement" of the contemporary art museum in Tehran, which gathers works of Kandinsky, Warhol, Pollock etc. Telling the story of the collection and how it evolved during time. An interested work directed by Abbas Kiarostami's son. Unfortunately, you can't watch this online, but I've made a recording. I might join is the symposium "Machines de perception" at Art School in Grenoble. I will tell you what's going on later. I wish you all a nice trip! See you!
Message left: 3rd March 2009 Rainy
Diane Pigeau, Marianna Hovhannisyan and Yun In Kim (from Nantes)
We are in Nantes since Tuesday morning. We arrived in Nantes more than an hour late because of technical problems on the way and after a whole night in train. So we were not so fresh but really excited by the opening of the symposium. We have three days of symposium under the name of "Where different worlds meet ("Les mondes se touchent") at School of Fine Arts in Nantes. There are 16 speakers who have different experience in the field of art and culture. For example: art history, curating, literature, sociology, visual art, contemporary dance, urbanism, etc. They deal with globalization in regards with their background and work. The first speech was made by Zahia Rahmani. She was really generous in her lecture mixing historical concepts and biographical story. Today is the middle of this symposium. There are five different speakers. They speak about notions of territories and art scenes in regards of Biennales events and specific geographic areas like Arabic countries, Africa, China, Caribbean islands.
And we are expecting some good news from you, and have a nice trip!
Message left: 4th March 2009 Rainy
YIK
This week, I have an opportunity to attend of the symposium at Ecole régionale des beaux-arts de Nantes. The title of this symposium is Là où les mondes se touchent it transferred that "where different worlds meet". This symposium opens to public during three days, there are composed three questions of globalization and there are 16 lecturers to speak their works relevant with this subject.
I would like to tell you first impressions of this symposium. On Tuesday 4th, the opening was a little bit delayed but it frequently happens. At that moment, I just was look around the space of auditorium taking advantage of free time. When I decided to attend this symposium, I have some aims to get from this conference, one is look through the space not only the natural or geographical space but also the atmosphere of this symposium because we will be make conference as an our final-collective work, so I think it is good opportunity to compare with Magasin's auditorium and expect about using our space more efficiently. This auditorium has 5th floor, on top of the building and the interior space has a cylindrical form with red walls and red chairs. There is large screen in the middle of the room, it seems like a normal but very well organized especially the effective distance of between screen and seats has good enough for visibility.
The symposium began with greeting of two professors of the school and I recall another aims to find the new kind of vision about globalization like the title "where different worlds meet", I was thinking about it may be exist now, here and I would like to take new perspective about this problematic subject. In this context, it is helpful to rethink my point of view about globalization because of the questions of which are mentioned by Emmanuelle Chérel who is a moderator of this conference, she said that how contemporary art is affected by ensuing the questions such as the function of multiple medium and methodology of art, condition for a new forms and using the network with other filed of culture for instance literature and music. But for me, most significant question was "What aesthetic debated are emerging from this new reality?" Because, this question is not different from my problem which I always ask my self when I research about contemporary art field and work a curatorial affairs.
Now, I have two parts of this conference with 10 different subjects and speakers. I hope I will discover new perception or I will realize something I didn't know.
Email correspondence 4th March 2009 Rainy
DP
First this trip in Nantes really fits with my fourth episode. Experiment - a physical travel and in the same time keep in touch with the group by virtual exchange on web, keeping in mind the progress of the blog, thinking about what should be interesting for participants missing and how to transmit you what we are living here.
By the way, here I'm so close to my family, less than 2 hours. I have never been so close since years without possibility to visit them. It is a kind of frustration feeling from both sides, especially when you are always in rush, in the work and think so many times how great it would be just to have a rest with a homemade dish by your mother. Take the time and not for once run after it!
All these commentaries can fit with concepts quoted during the symposium: quickening of globalization, mobility, complexity and multiplicity of identities going to building of schizophrenia of reality (my personal interpretation), fragmented body, activities and consciousness, the impossibility or possibility to meet, to understand the representation of the other. "I is an other" "Je est un autre" quotation from Arthur Rimbaud used by Pierre Henri Jeudy (sociologist) yesterday on his lecture about transcultural effect.
Message left: 4th March 2009 in the evening Stormy
MH
I want to twit that the trip to Nantes even it was very long to get here but since now it is very interesting to observe how the School of Fine Arts in Nantes involves the students in the symposium process by presenting student's works or performances before each presentation. It is experimental as the students besides having a position to ask questions they had the liberty to exchange their role with the invited professionals and present their experience also. This working model I guess regards Season 18ers working process from the point of experimentality. During these days we have experienced two main positions of speeches around the symposium subject. The first one is that some invited professionals relate the question of the globalization to their own and personal life, the next one-to introduce from the theoretical, philosophical approach.
Small story: Today by chance when I was taking my notes in Armenian, a girl-student next to her turned and asked in Armenian "Are you Armenian?" Her name was Maral, a 2nd year student in Nantes art school who is Armenian born in France. As Diane reacted to this fact by saying "You are everywhere!" I want just to answer even during the symposium about the globalism.
Message left 5th March 2009 in the morning Cloudy and Rainy
MH and DP
Hi everybody, during this symposium, besides having a lot of interesting lectures and meetings we would like to share with you a video. This video called How to Make Global Art: A Lecture by Audrey Chan (a young artist comes from LA and invited for the residency at the School of Fine Arts in Nantes) was presented on wednesday 4th of march. Just for your information, this video was inspired by Allan Kaprow's recording How to Make a Happening (1966). If you want to have a look on her website: http://audreychan.net/. Enjoy it! A bonus also for you: the address of the blog Interculturality in the 4th Dimension (http://asianjew.wordpress.com) which she is involved in.

How to Make Global Art: A Lecture, Audrey Chan
Last message left: 5th March 2009 in the evening Sunny
Elodie Dufour and Marlène Perronet (from Rotterdam)
Rotterdam city woke us up with a techno song and a cloudy weather, about 11C in the morning.
Message left: 6th March 2009 Sunny
YIK
Hello, Rotterdam correspondences! We arrived in Grenoble in this morning, I will collect messages from three cities and I'll send to you the overview by email, if you have something more about there and symposium, send email to me. Please do your best for your symposium and this group dialog also!
Last message left: 6th March 2009 Rainy
ED
There are my responses for the mission of this group dialog.
The first question, why did you choose to go to "Rotterdam Dialogues"?
It was a very exciting occasion to open contemporary topics around the curatorial positions. According to me the choices of the different interviewees and dialogues were in between a look backward, as the Hans Ulrich Obrist's book about A Brief History of Curating and contemporary issue as the benefits of a curatorial training program or the status of the independent curator as an influence on the art practice. The angles chosen for each dialogue were connected to the choice of moderators coming from different fields and experiences. The dialogue as a form was very adapted as it is an alive and flexible position defined by many different voices, including misunderstandings and opposite positions.
From the inside "community" of curators, we could have defined this Rotterdam dialogues as a collective lecture and as Jan Hoet, curator and former artistic director MARTa Herford said, "trust the peer's intuitions".
Second, what have you seen?
The 3 days were organized around three propositions: expectations, positions and contexts.
The duration of each round table was about one hour. Each one was cut in two parts, a dialogue between the interviewees and another open for the questions from the audience.
Lastly, what do you think of what you've seen?
I've been very interested by the lecture of Iritt Rogolff , theorist, curator and professor of visual culture in Goldsmiths College in London University. She introduced the "Implicated" notion as a new language to define the context of 'curatorial'.
The Jan Hoet's interview, curator and former artistic director MARTa Herfor by Ann Demeester, Director, De Appel, Amsterdam, was very enthusiastic and the audience participated a lot. Is curating narcissistic, was the issue, Jan Hoet introduced through his experience, an interesting point of view; He asked to us why through we are, we are interested by art? This question according to him is a fundamental issue. He insisted also on the notion of the confrontation between the person and his identity through the curating position.
Email Correspondence: 8th March 2009 Sunny
MP
I wanted to go to "the Rotterdam Dialogues" because of the guests, figures of the independent and institutional scene from different generations, like Ute Meta Bauer or Nicolas Bourriaud. I was curious to see how they would answer to questions (the form was exclusively on interview and group dialogs) such as "What are the responsibilities of a curator?", "Does the exhibition have a future?" or "Can we juxtapose academic and intuitive thinking in the practice of curating?"
On another level, I was curious of the part about "Who benefits from curatorial training programs?", being sure this conference would surprise me. I was expecting this meeting to be an occasion to meet up with other persons from this field (I wish to say the "implicated"). The place was crowded.
This symposium was the 2nd of a whole cycle dedicated to the following actors of the art scene: the critics, the curators and the artists. Not having seen the first part on the critics, I wish now I could go to the last one about the artists, and find out why they chose these and no professionals on the side of the market. The question of the sellers was however raised during the symposium.
The symposium itself was organized in three days: the first one was articulated around the notion of "positions" and was the one I have been the most interested in. The very first lecture "The implicated", done by Irits Rogoff, suggested to reform the terminology in regard to the evolution of the practice and mostly the question of the "audience". A panel discussion around the theme "When is a Biennale a success?" closed perfectly this topic with Hou Hanru, who will curate in extremis next Lyon Biennale, analyzing the process of this two last decades in regard to globalism. During the second day ("Positions") and the third day ("Contexts"), we could assist to some big moments mostly linked to the interventions of the public. According to me, the topics as closed-ended question questions did not help the speakers to warm up; they first would had to readjust the terms of it ("Can the same exhibition happen everywhere?"). Besides were the – sometimes sharp – questions of the audience some intense moments.
What I mainly took out of it – for the moment, it is still so fresh – is that the main actor to deal with was the audience. Linked to the democratization brought by the process of globalization and the connected appearance of biennales, the recognition of these was primordial. The notions of communication and education were approached and the professionalization of this field wasn't even to be mentioned. It is still warm, really, I wish I could correct my assertions in some weeks.
Email Correspondence : 8th March 2009 Sunny