Shifts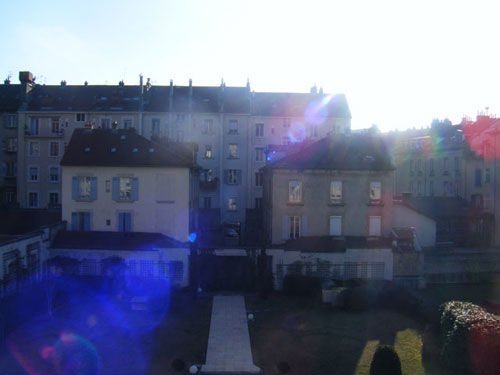 Shifts - Elodie Dufour
Feb 23 – 27 2009
This is the group dialog belonging to Season 18. Each week we are discussing a specific topic regarding the evolution of our collective project. The focus on dialog reflects a meeting point for the different voices in our group. In this Episode 04, the six of us were in Elodie's apartment and connected on Skype, but installed in separate rooms (kitchen, dining room, living room, bedroom, office and balcony). The idea of the moderator for this discussion was to experiment with the fiction frame as a tool in order to be in a connected dynamic. The moderator introduced the proposition of opening the concept of Season 18 as a topic for the group discussion 04. Season 18 was the first step to build our project through the blog realization. How can it be still described inside of our work-in-progress now? The rules for this discussion were: the first step was to have a round table, each participant expressed his or her point of view. Then the second step was dedicated for the discussion.
Episode 04 was moderated by Elodie Dufour.
Elodie Dufour
First question: what was that concept Season 18? How can it be defined now?
Marlene Perronet
The idea of Season 18 was to assemble 2 opposite notions: at first, a collective work and then, 6 different projects.
As we said earlier, we had to find a combination in order to have these 2 opposite methods combined in one… Then we had to find some common aspects and we started about the TV series… well… So session/season was a game word association (a bit easy according to me; and then we had to stick to it and to define our position in this fictionalized framework). Act(o)rs? Directors… and so on…
Tolga Taluy
For me the origin of the concept, as Marlene said, was to answer to two different institutional demands: first to make 6 individual propositions which would fit with the theme of la Biennale de Lyon 2009 and second, to present a collective project at the end of the year. Instead of being exclusive (i.e. choosing between one or another) we choose to work with both. The idea of a season would give us a general framework within which 6 different individuals could make propositions. What seems interesting and strange to me, is that we have somehow lost or forget about the main framework, the common goal, or the main narration. Now, it seems like the system works. But I have this feeling that I don't really know where it is heading at?
Yun In Kim
Yes, above all I agree with Marlene and Tolga, thank you. And I always think about season concept related with TV program, which we decided at the very first time. In this case, I would like to act on as an actor but not a commercial/plastic one but like in a reality TV show.
In this context, session is possible to our framework, like a broadcasting system. But the only problem is I sometimes confuse this session concept, I mean collective position. I'm not sure how can I contribute by working in this group but I really want to be helpful in our season and session also.
Diane Pigeau
The Season 18 gives us a framework. We keep the main idea that a season is composed in one part by a rhythm, each week you discover an episode, and you follow it because there is a narration developed inside. It is a fiction too, but you have the possibility to identify yourself in it. You have an addict effect also. And in order to connect with our curatorial issues, it's a space where we have the possibility to built individual research projects like variety of stories proposed inside TV series with at the same time the main collective one which give sense to the individuals. Our individual parts for me are more connected with materials, alternative stories. But also it's interesting how we dealt in order to never be stuck in a TV series problematic. We only use it as a frame.
Marianna Hovhannisyan
I want to add to all above-mentioned that of course the Session / Season 18 is a fundament to build a project and relations. It came out from the concrete situation but what I follow now is that day by day it becomes more autonomous for me. It is becoming a model of how to build a project in general. Besides we are becoming much more focused on the content forgetting about the narrow questions which in the beginning were in front of us.
ED
I always thought it was somehow "an excuse" to define a framework. According to me, it was mostly an opportunity to have a frame to define what we want to propose as a collective during this session. Also, I found the idea of TV series really "different" and interesting but now, I'll not define anymore the Blog project as a season but as a project in progress in a new session. Even if I agree with Diane, the only notion connected to me with TV series is the addiction to the virtual space!
To summarize what we just said, I would define the concept Season 18 as fiction to be a framework and a combination of the both and "opposite" realities of the session: collective and individuals dimensions. (Rhythm, space, experimentation). It can also be considered as "an excuse" for methodology to build a project.
I wish to go further with these common elements we quoted and in that goal my question is:
Do we still need Season 18 as a fiction, or narration to build the project, does it still exist to us? And this question is answered in dialog.
MP
But… shall I?
ED
Sure.
MP
Yes, you refined your question so I refine what I wanted to say… I wanted to react on some statements some of you made about the TV series, I mean, for me there were initially absolutely no link with any form of fiction, narration (narrative), TV show etc. not at all in Season 18! Only the framework of the blog was giving - and only for us, for the inside - something linked to series - as being a rush and as something systematic. Then, the group discussions started to become big as we went along; the moderators started to become creative with this form and this creativity made the blog evolve to a kind of self-fictionalization that I found unexpected and interesting. NOW the thing is still not public, so where is the addiction? The readers will discover 5 episodes in a row!
ED
Diane the idea of addiction was yours do you want to reply?
DP
It was a general point of view on effects of TV series and maybe on blogs too. For instance sure, we are the only ones concern by this addiction, but hopefully more numerous at the end.
ED
Does someone want to react about the no-fiction of the Season 18 proposed by Marlene?
TT
For me, the idea of fiction has never been so obvious. I would say transposition rather than fiction. The use of a season with episodes provided us a productive framework. And I don't agree with Elodie when she says it was an excuse in regards of the situation of l'Ecole du Magasin, because I thought it was an interesting process to work with. But also, and most of all, it was a conscious common agreement.
ED
Who else wants to say something?
MH
I want to add that the way we work it is a narrative one and has many aspects.
TT
I completely agree with Marianna about the fact that it is something narrative, but I don't follow the main line anymore, if there is one and I would like to bring up this subject if we have some time today maybe?
MP
What is narrative inside this (can I ask)?
But can you Tolga explain first what do you mean by "the main line"?
TT
It is quite similar to what you ask, what would be the main narrative inside these episodes? And first of all, is there one?
ED
Do we want to find one?
TT
By episode I mean 6 individual propositions per week, just to make it clear. What is the common other than the system and methodology?
MH
But I think Tolga let's leave Elodie to continue because when she asked us in the beginning do we want to work collective or we are obliged to and so on, I think we will come to your question which is becoming crucial every moment and day.
DP
Sorry but for me, we haven't only methodology and system. Our individual parts are always overlapped with others, for me we are around one, two maybe three main topics no more. We can really find common interests but we just never managed with it. Just we approached this question and delayed it, it was never the good moment.
MH
I agree with you to raise this question I will mean to come up with another level of work which can make us to work without being attached to the fact that we are in the framework of L'Ecole.
TT
As I understood, we're getting there slowly right now. Since I interrupted you maybe please give us your opinion as well Elodie?
ED
For me, we have to decide before working together if we want to or not, to take a position. If not, it is a position inside a framework as an empty shell no?
(Break: cigarettes and chocolate)
ED
I prepared a second topic connected mostly to the first, so I propose to you the exercise to do: Can we, one by one, say what we know about another episode that we can choose? What are the concepts developed inside of this episode? Who would like to start?
MP
It is a difficult question…
ED
Let's try!
TT
I can start if you wish. I will try to do with Marianna's research. Her project is called "Archive - Practice". I believe she's working with the archives. She's interested in doing interviews. She did an interview with Nazareth Karoyan. I believe she's interested in the use of the archives within the field of art, teaching and therefore transmission?
MP
My turn and yours, ED. You work on the notion of collective identity, as meant inside artworks or ways of being visible in the frame of doing art. At first, you raised the question. You didn't want to be "the shrink of the bench". Then, for your EP02, you really worked with art pieces interrogating History and big wounds shown in art, treated by art in some ways but always linked to a collective way of having to deal with it, from the transmitter to the receiver. Eventually you decided to blur a bit the boundaries and in your last post, you interrogated something more theoretical, voilà.
MH
OK, I will try Yun In but first thanks to Tolga. Yun In tries to question the identity problem in Korean contemporary art situation. She presents it by some events and I have noticed that this question for her is somehow starts with Korean modernism but in the relation of traditional. She focused on the collaboration work in the last post. That's for now!
YIK
I will talk about telling one, may I? "Telling" is the main title of Marlene's episode, since first episode till now, she talks about exhibition narrative with some mega scale exhibition such as Shiryaevo biennial and Munster. I found her interests of space and art works, it means the influence of display of exhibition and also she focused on the role of curator as a space director of these big-deal events. Especially, very last episode, she dealt with Munster sculpture project, I think it is more focused on the relationship with art and space because sculpture is diverse dimensional artworks, it can be make a space by itself. I think it means that the sculpture makes its story-telling by itself also, and it has a history of its position not only in the Munster project but also in the history of sculpture art. So, what is next episode? I'm expecting your telling!
DP
Tolga chose to called his research project "Tactical networks and simulations". He explores the World Wide Web under many aspects. How its influence is growing in a particular geographic areas, specially conflict areas as Israel-Palestine-Iran-Iraq but also how it offers different ways to access to information: news, documentary online, diaries, mapping. Then use its potential to share and meet people far away and involved in this topic. Finally his underlying double question: what the web does for us and what we for it, implying the question of responsibility.
ED
Diane about her border devices subject is asking to me, the signification of a border as a notion in art. Is the frontier between documentary and cinema saying something about the way to define a historical situation? Is it more a fiction in one case and not in the other? Through different artworks, what can be defined as gender or not and how to show it into exhibition? The space of the exhibition, would it be a transit zone to try to reduce as much as possible the frontier between disciplines and different levels of comprehension? "Komedya" for example in your last episode, how could the device in the exhibition offer a different level of understanding, as a caricature of the history of colonization and so? How do frontiers make sense or prevent the meaning?
ED
OK, thanks everyone. From that let's go back in the format of group discussion, who wants to react? To describe and be described the episodes, was it meaningful for you?
TT
I think it is a good exercise but I think also maybe we should be more precise?
ED
Yes, I feel the same.
MP
I think we don't know what every one has in mind BECAUSE no one really knows how (s)he will end up since we still wish to connect each other at some point.
ED
Who felt it was an out subject totally I mean?
TT
It's not "out-of-subject" descriptions, but approximate descriptions.
MH
It is true we do not know the end precisely but I think also the question is that we do not manage to talk with each other more structured.
TT
I think the reason for this is an attitude. This is when it becomes interesting to talk about if we want to do something all together at the end or not?
ED
Do we?
TT
I don't know, but what I feel is this is the moment to decide, because we are in between, neither doing something completely individual, nor something collective.
MP
You're right. But I still don't get the thing with the attitude.
ED
I vote for the collective even about fights and so between us! I'm ready and wish to stay the mod-irector please!
DP
I agree with Tolga and have the feeling that each wait for others. But Elodie you seem have a kind of clear idea about what you expect for the end about this collective point. You seem more open to an individual way, isn't it?
TT
I think we can do both, as the same way we did for the blog, don't you think so?
MP
How? How Tolga?
YIK
May be the attitude can be related with our position in collective work I guess, Elodie do you have something about that?
TT
As we did for the blog, we can be inclusive rather than exclusive?
MP
@yun-in: but I didn't get the attitude thing!!
YIK
So we need to explain about attitude form Elodie, no?
DP
I can't imagine to just bring all the material together and let the viewer manage alone with all that stuff.
TT
The attitude is about either be more careful with each other's projects, discuss more about the content, etc. or be completely independent by choice.
ED
Yes but first we have to confirm the desire to be in a collective position, don't we?
MP
We do.
An attitude again?
ED
You all?
TT
This is why I find the idea of an "agency" interesting.
MP
What agency? I don't remember…
ED
Wait, moment. Does everyone agree that we need to decide to be a collective or not to be, now?
TT
Before bringing up this question, I would like to have an individual definition, a personal vision of the collective, rather than giving an opinion, don't you think so? I mean, which are the desires to be a collective maybe? Don't you think so Elodie?
ED
Yes, but to me it will be already the starting of a collective work, because you can define the collective on what you want after. I mean it will be our collective, defined as we wish and need. So the question to me is more, do we want to or not? Because I agree we are in the middle, and the only reason to start on a collective project will be the wishes of everyone except us, for the moment. So let's decide and after, let's define it in a "patchwork" meaning!
MP
The thing is again, the empty shell. I can say (to look friendly) that I want to work with you all in harmony, let's come together hand in hand, oh yeah but then what?
TT
My opinion would be it doesn't makes sense for me to say "I want to work in a collective project for a collective realization" because I don't know on what I'm agreeing?
ED
I mean equal situation and balance inside of the collective will never exist, everything depends on us.
MH
OK, let's put the question like this. First to question the wish in the relation with each one's motivations why we want and then to propose the ideas how it will happen.
ED
I think a collective can exist through conflicts, it can appear if you know why you do it and to go where. I never imagine that we it could be only a friendly collaboration, it can exist through a lot of forms, really.
YIK
In my opinion, the format of our collective work is open to every aspect.