Conversations for a confidant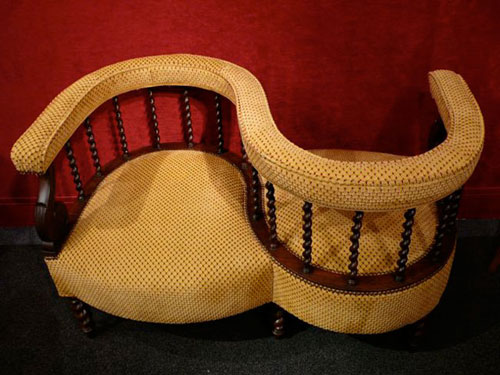 Confident Napoléon III - Galerie Violon d'Ingres
Feb 16 – 21 2009
This is the group dialog belonging to Season 18. Each week we are discussing a specific topic regarding the evolution of our collective project. The focus on dialog reflects a meeting point for the different voices in our group. In this Episode 03 titled "No theme just a game", rather than having a precise theme at the beginning of the discussion, the moderator decided to focus on the system by suggesting simple rules to structure the group dialog. The topics were then proposed by each one of the participants during the discussion.
Episode 03 was moderated by Tolga Taluy.
Elodie Dufour
Let's play!
Marlène Perronet
Let's go!
TT
As you already know, the title of this group discussion is "No theme just a game". It doesn't have a fixed theme to talk about, so you are free to bring up questions you wish to address. Each participant might bring up one subject at a time and everyone might contribute by discussing on this. You cannot interrupt a participant if he/she is not finished arguing, you should let people talk until the end. Once the speaker is done, you cannot address directly that person, by saying "as you said…" or whatever. The last thing to keep in mind is to avoid the discussions we already had the first two weeks about our "kitchen", I mean the institution, the structure of l'Ecole du Magasin, le Magasin, etc.
ED
So this system you chose is: no reactions, no questions, no links between us except having an opportunity to propose a subject?
TT
Of course you can react. Someone will propose a subject and everyone will talk about the same subject until we have nothing more to say. You can have reactions in regards of ideas, not in regards of people.
ED
Take ideas as objects? I take the content of your proposition, your opinion to react on? Not to the person?
TT
Remember that when you bring up a question, it is for the group. So everyone should give their opinion before switching to a new one. We should ask if everyone is done with this topic first.
Diane Pigeau
I would like to react about this group dialog theme. A group dialog can be taken as a kind of possible confrontation. You are in direct interaction with others. By this direct experience, your discourse is building with the participation of reactions. It's an other process than writing, more free exercise.
ED
What can be the goal, the objective of a group discussion? Confrontation as you said Diane, which is a tool more than a goal to me but as you said, the process could be the goal? What could be the need for us? As a curatorial practice is there a need? Do we have to do and why as we are used to do so? Should it be by mail? Even by chat? Each time on the chat and on the mail it's a question for 6 people, but of course some of us doesn't reply, but… OK - I agree with the fact that we need but to me it's not so clear that we need to do it formally like today for example.
TT
Your proposition would be that - we don't need to see each other actually?
ED
I don't know but to me it could be exactly the same thing than the system we are experimenting with here. You have to express yourself but without asking questions to others without reactions. It's exactly the same. Why couldn't the group discussion have another form, even another goal? The only question to me is if the curatorial process would ask us to construct and imagine a new proposition, why not find a new system from now?
TT
Are you asking the group if it is too early to have these kinds of meetings?
ED
No. To me, what is the aim of a group discussion now?
TT
So the question is what is the meaning of these group discussions now?
ED
Yes. In the process, during the 4 weeks.
TT
OK - others?
Marianna Hovhannisyan
Perhaps now I'm totally off from the subject but I cannot imagine any project, production or even meeting with the people that do not happen through the discussions.
ED
What about the shape of the discussions? What could be the difference between what we are doing now and an interview by chat for example? Sherry Turkle, an American psychologist worked about the notions of limits between the online life and the real one. And she proposes the idea that people will never stop meeting physically because it's necessary to have the context to know and understand the other. But she evaluated different situations and built a conclusion saying "we wish still to have a real life, physical life, to live deeper the online life". As if the offline life would be spontaneous and so you don't have any archives and traces. And your online life would the continuity of the real one, but with traces that you can erase or take the control on.
TT
I would like to have your opinion in regards of these questions. You gave an example with Sherry Turkle, but what is your personal opinion?
ED
I've never experimented with a non-physical meeting but I wish to try so as to have an opinion on it. But I was really wondering from her point of view to know what can the online discussion can allow or not? When we are together on Skype chatting, I really wonder about this process of exchanges.
TT
I would like to have at least the opinions of the other speakers because some of us didn't speak at all.
Yun In Kim
I have no idea about this kind of systems, so to me a system is like an order or a rule, but sometimes a system is systematic. It means to have the process of something like a group dialog. Actually first, I would like to suggest you to discuss about sports-game and then art exhibitions. I think that's a misunderstanding about this dialogue.
TT
What would be your position about the group discussions?
YIK
Ah - I'm sorry, my misunderstanding about this group discussion. I think at first before we discuss about something or someone building something like a definition, we have to do the building of a system. But like a rule or like a - what can I say to explain something efficient - for example we have to concrete order, I mean like an order as in an alphabet or something. But we don't have any order or we don't have any system, but I don't want to claim about our system because it is quite spontaneous and I really love it this time. I really want to tie up to something like a concrete system. We finally got our rule, but different rule, in order monday and tuesday we have separate time, these are kind of a system I think. I don't know it is systematic or not. The systematic is very different from a system. The systematic means that more than efficient. I think it can be another system of our subject, or our curatorial practice, I wonder if it is systematic or not.
DP
These group discussions, and the redundancy is not innocent. Notions of group, collective, as much as discussion, are in the heart of the system we built around.
MH
Concerning the group discussions, first I want to add about the role of the moderator, each time one person from us who is changeable each week, showing his/her position towards the group. This method and format of working together gives an input to the group system and makes clarification in the "characters" of this situation. The second thing is, even not questioning the form, I mean it could be like by e-mail, I do not know, by chat, being physically here and so on, is responsibility. Responsibility to have a reaction and to keep in mind to be in the certain form, not to go deeper in the questions, I cannot find the word but - OK…
ED
No. What do you mean by responsibility?
MH
An example from yesterday: someone sends an e-mail and 3 or 4 people from the group did not just answer.
ED
Because of what?
MH
I do not know! But to keep the process and the system to come up, the reactivity and the responsibility is important.
TT
What would be the difference of responsibility level between an online and an offline group discussion?
MH
In both cases it's the same for me. During this discussion even to have everyone's reaction and an input, the same thing is online. I mean the question of attitude.
DP
The other difference is for the chat online, especially when you are numerous, the notion of time is not the same for everybody. It's easy to lose the track. The rhythm is different compared with an oral exchange. You don't have any physical contact. The notion of speed is not the same at all.
MH
Yes, and also you have to answer most of the time. It's formal somehow because we consider to be a group. If someone sends something me most of the time feel myself much more responsible to answer. Maybe because the archives you mentioned.
ED
It makes me associate once more to Sherry Turkle, because she worked on the connection attitudes and explained that the concentration seems to be more devoted to the other person when you are online. Because she was making a comparison in a encounter in the street, you can always be disturbed by a lot of things around although online you answer directly, even to the direct content. But I don't know if I share this position, me personally when I answer to friends for example I can do in parallel many things and even chat with 2 or 3 persons at the same time…
DP
I think there is something very different between a writing discussion and an oral one. We have the habit to say "written languages stay but speeches are blown away". At the end of an oral discussion, you will not mainly keep facts in mind but a kind of general feeling. You experiment a kind of performance.
TT
May I conclude or is there something else to add?
MH
Are you satisfied?
TT
More or less. Before ending the discussion, I would like to explain a little bit why I choose this methodology. But before, in regards of this offline or online discussions, I would like to add that when you do an online discussion, you use a tool to communicate, whereas when you speak it seems to be natural. I think you don't have the same attitude towards the content, but anyway… The reason why I choose this method is because I believe we are more or less in the same situation as this game right now: in fact, we are working on individual propositions without having a collective theme which groups together the whole thing. I was being curious about what could be built from this if we apply it to our discussion. What I find quite interesting is the fact that then the system itself becomes the content for the discussion and we start to question this system right away. We are barely able to use this system to talk about other subjects. It is quite curious and interesting in my opinion. I don't know why this shift would not happen. It was a nice experience anyway. Now, even though we started by doing these group discussions online and it didn't really worked out for us, I would like to try it once again.
ED
To me it is really connected with the notion of identity, the process can be the identity, as in a family. Without any direction topic you look to yourself as a mirror. Without any collective defined goal, individual position became much more stronger which has a consequence on the movement and the stability of the system. But I really like the idea of making a discussion online.
DP
This meta-group-discussion is not a little question, I think we can't raise it really, it asks to us and to everyone a huge question: how we can even create collectively? What does that mean to create collectively? Is it even possible? And it's not a question that we can just throw away, to focus on very big thematic, to hide behind the scene and it's an important question as in curatorial practice as in the field of art in general, in companies or in schools. This question always comes on the table at one moment or another.
TT
What I wanted to do is to propose a metaphor to the current situation and try to see what happens when we apply this to a common project. For instance, during this discussion I wished everyone would have their own space - as in a blog - that's why I forbid to address directly to the others. Not a theme, because we didn't start to work with a common theme at all. I wanted to apply these indications in another situation to see the possibilities and the limitations. It's curious to see it brings us to talk about the system itself at the end.