Mitigation and adaptation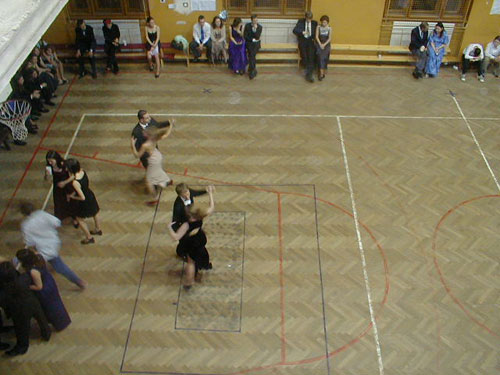 Basket ball - Marlène Perronet
Feb 09 – 14 2009
This is the group dialog belonging to Season 18. Each week we are discussing a specific topic regarding the evolution of our collective project. The focus on dialog reflects a meeting point for the different voices in our group. In this Episode 02 the distinction between "group" and "collective" begins to take shape. From these notions the conversation progresses in the direction of defining the Season 18 final approach and realization methods, which regards the process and research of weekly posts that comprise the "episodes". The group dialog is accompanied with 6 diagrams representing some subjective and objective selections of facts from the participants of Session 18, as a way to figure out another type of representation of the group.
Episode 02 was moderated by Marlène Perronet.
Marlène Perronet
Previously, I said we might have developed a kind of camaraderie through our daily struggles, by saying "I don't trust the group"… I would like now to ask you how you see the dimension of the "collective" work. For instance, once we were opposing "group" to "collective". Remember?
All
No!
MP
Yes! And we were saying we would act as a collective.
Elodie Dufour
No, to me it was the opposite, we are a group not a collective. In my opinion the difference between the group and the collective – I don't speak especially about us but in general – would be: a group is an addition of different persons or things. "Collective" would cover a movement on top of that, which could be different than an addition of each individual's position, as a group dynamic, autonomous and independent. To me a collective would be like the expression of one voice.
MP
I didn't get…
ED
We can become a collective at the moment we are not anymore only an addition of persons, obliged to go to the same point, but producing something together.
MP
This doesn't take in consideration the notion of singularity, you mean?
ED
No really, you can have an individual identity inside of a group but in going in the same direction together, you can stay a bit in the background.
Diane Pigeau
I think the collective is founded or worked together with an aim, which will be developed in a longer timeline than for a group, which can be more casual. Besides, the identity of the people composing the collective doesn't have the same weight than for a group. In a certain way, if I compare it to our work here for the curatorial project, we are at the beginning a group and we are trying to go, in a way, to a collective. To be more representative by Season 18 than by our individual identities at the end.
MP
But precisely, when you speak about collective, can you picture yourself as making an exhibition without being a part of a… team?
DP
There is a difference between working as a part of a curatorial team and working with different partners in the elaboration of a curatorial project.
Marianna Hovhannisyan
First I wanted to say that I am sharing Diane's position, that the collective is something much more precise, in sense of a goal. It is clear why do they work as a collective and what the goal is. Now I can not say, do I see myself separated from the collective. I consider my experience in Armenia. Actually I am working with three people at the Fine Arts Department at Armenian Open University. Maybe because I started my curatorial practice being in a collective I am still interested in it.
MP
But you remember, for instance, we were told once here that there is never a real collective, there are always leaders and followers. That it is a lie to think everybody is on a line. There are different skills and competences that force a hierarchy. You can see it in the everyday tasks. Everybody is able to wash the dishes but not everyone is able to fix technical aspects on the blog. And so here something that make some people more important than others.
ED
Yes, but it can be balanced by each different situation. It's not a line, a stable situation. It's always moving to me, it can't be stable in a way. To be unstable can make the collective an efficient situation.
MH
In our case there is not the question that there should be one leader in a very hierarchical way and the others, following as an anonymous crowd.
DP
For me at first there is the language issue. When we want to go deeper in some conversations, like hard discussions, we have only a certain amount of words which is more limited than in our mother tongue.
Tolga Taluy
But in French it is the same… We have to figure out a system. For the collective form I really don't have any idea because you know, we just posted one thing and we don't exactly know what we are proposing yet, if the conclusion is going to be an exhibition, what is the theme proposed by the collective, etc. We don't have any opinion, because we don't have any material, we just have six articles belonging to six individual propositions…
MH
I agree with you but my question is what we are going to keep in mind, to follow and develop in our research and relations. Where should come? To follow the individual part very precisely and to organize more discussions and to figure out from this individual part? Or for instance should we really try to find another format and content by collective discussions and so on.
TT
Yes, but why should we try to find another format since we didn't even try this one yet?
MH
It is a question, I do not know. Because for me it is of course preferable from the individual part to come up or to-
TT
-And don't you think that, with the progression of things, the individual posts, and then this kind of group discussions about our projects, etc. we will be able to articulate something all together?
MH
Really I believe on this part.
TT
We already have a structure, we already have a framework and you can always articulate things. I mean if we can't articulate these things, then we are dumb, you know?
ED
Articulate… By pulling your hair?
TT
No I mean, it's not as if these individual propositions are disconnected from each other!
MP
But should we already deal with the technical aspects, such as looking for a place for instance?
Yun In Kim
We could for instance decide first the form and then the content. We could decide to make an exhibition and then divide the tasks, following our skills.
MH
Or what we could do, next week, is reading deeply and having some reaction to what we have done and try to understand and come with small propositions.
DP
For instance we could focus on one post and go deeper in it and, in the same time, keeping in mind our subjects. We could dedicate each discussion to one of us and the refining of our own topics.