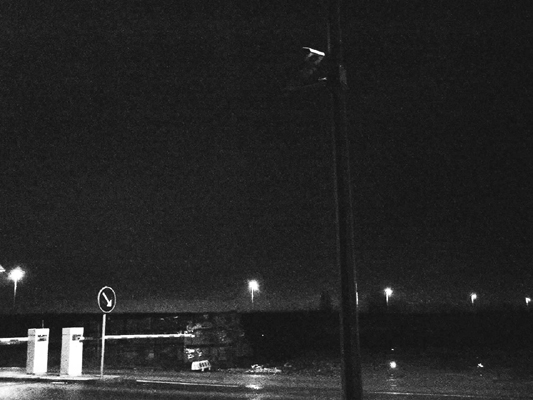 "Toll Gates", Part of BorderXing Guide. Photograph © Heath Bunting 2002.
[EN]
By the blog's creation and by the Web's use as mainly source of informations, a new form of relation is developed as one goes along. The web harbors our individual researches, encourages meetings and interviews, and joins all in asking for a critical eye always more aroused by the selection of information. The representation of the internet user could be associated to the image of the hero's tale Le Petit Poucet. Mark the path in order not to get lost, control codes and language of this oh so attractive universe. We have to cross information's borders and barriers made accessible by means of cursory entrances through keywords on research motors such as Google, Hotbot or Altavista in order to access on rough information, not the one which appears on the top but the one we discover at the bend of a link.
The internet space is by this way more than a web-pages' succession, electronic letter boxes, online games and communities. It becomes a real space for political fights where are engaged campaigns, actions, where are raised contestation's voices and new activism's generation.
We find these kind of concerns in BorderXings Guide, a project by Heath Bunting1,where the key element is its challenge to political constraints on human movement. The work comments on the way in which movement between borders is restricted by governments and associated bureaucracies. Heath Bunting walked between European countries in many kinds of settings, passing through forests, rivers, mountains and tunnels. The walks themselves have a meditative quality, recalling the walking art works of an earlier generation of British artists exemplified by Richard Long and Hamish Fulton. He painstakingly documents the routes he follows, making detailed records of all his movements. BorderXings Guide is thus a manual written on foot, an act of reportage for others who may wish to cross borders without official documents.
The website is not available to everyone who has an internet connection. People wishing to view the website must physically travel to one of the listed designated locations, or apply to become an authorized client themselves. The project intends a reversal of the way that borders restrict movement and challenge the supposed liberties that accompany the concept of the Internet as a borderless space, what Florian Schneider2 quotes in his text about this project as a "reverse authentification".
And because here an opening seems more coherent than a conclusion, I invite you for some virtual wanderings, which truly deal with borders, political and social stakes quite real in the field of cinema, documentary, net art and activism.
Mainly selected from: subsol.c3.hu (only available in english).
Borders :
Aleksandar Boskovic, Virtual Places: Imagined Boundaries & Hyperreality
Luchezar Boyadjiev, Overlapping identities
Calin Dan, Geography of Doom
Miklos Erhardt, Crossing the Gap
Javor Gardev, Unbearable Lighness of being Barbarian
Ghassan Hage, The Shrinking Society
Fran Ilich & Louis H. Rosales, Borderhack 2000
Sebastian Luetgert, Roaming Producers
Harald Kuemmer, Border Camp // Strasbourg
Dan Perjovschi, No Visa? Better have American Express
Gerald Raunig, A War-Machine against Empire
Florian Schneider, Knocking Holes in Fortress Europe
Shuddabrata Sengupta, Borders: Walking Across …
Hito Steyerl, Europe's Dream
McKenzie Wark, Globalization from Below: Migration, Sovereignty, Communication Ventsislav Zankov, Understanding the Balkans
Technologies of truth and fiction:
Craig Baldwin interviewed, Detourned Documentaries
Candida TV, Reality-Fiction
Stuart Ewen interviewed by David Barsamian, PR: Corporate Spin and Propaganda
Peter Forgacs interviewed by Sven Spieker, At the Center Of Mittleeuropa
Oliver Grau interviewed by Deutschlandfunk, The Image - From Real To Virtual
Jill Godmillow interviewed by Facets, What Could Be And What Is
Oleg Kireev, Informational Human Rights
Geert Lovink, The Technology of News
Stephen Marshall Interviewed by Geert Lovink, GNN's Digital Documentaries
David & Judith MacDougall interviewed, Radically Empirical Documentary
Vraeaeth Oehner, What does Political Film-Making Mean?
Pode Bal, Critical Communication
Joanne Richardson, Memoirs of a Video Activist
Hito Steyerl, The Articulation of Protest
Thomas Tode, Filmic Counter-Information
www.incident.net (French)

Heath Bunting is an British artist committed to building open and democratic communication systems and social contexts. His past work has encompassed performance, intervention, pirate radio, fax, mail art and bulletin board systems. He has produced many internet projects, some highly recognised, and has helped form a strong basis for the practice of art on the internet. He was one of a group of artists who created internet art which has become known as 'net.art'. Recently, he has moved into the field of genetics proclaiming it to be the next 'new media', and is also developing work in the area of physical network performance. He has presented his work at many key exhibiting venues internationally, including at Documenta X in Kassel, Germany; the Institute of Contemporary Arts, London, UK; Banff Centre for the Arts, Canada; Kunsterlerhaus Bethanien, Berlin, Germany; Ars Electronica, Linz, Austria; Lux Centre, London, UK; University of California Los Angeles, USA; the Centre for Contemporary Art, Glasgow, Scotland, and many other locations.
Florian Schneider is a writer, filmmaker and net activist. He concentrates on how new communication and migration regimes are being attacked and undermined by critics of borders and networks. Schneider is one of the initiators of the No One is Illegal campaign and one of the founders of the noborder network and the Europe-wide internet platform, D-A-S-H. In 2001 he designed and directed the make world festival in Munich, and organised metabolics, a series of lectures on net art and net culture. He has also worked on several documentaries for the German-French television station, Arte, including What's to be done? which looks at contemporary activism. He also writes for major German newspapers, magazines, journals and handbooks.
Read his text written "Reverse authentification" about BorderXing Guide for the Tate Gallery in London, in June 2002.